Dedication Poem by Satoshi Kikegawa
---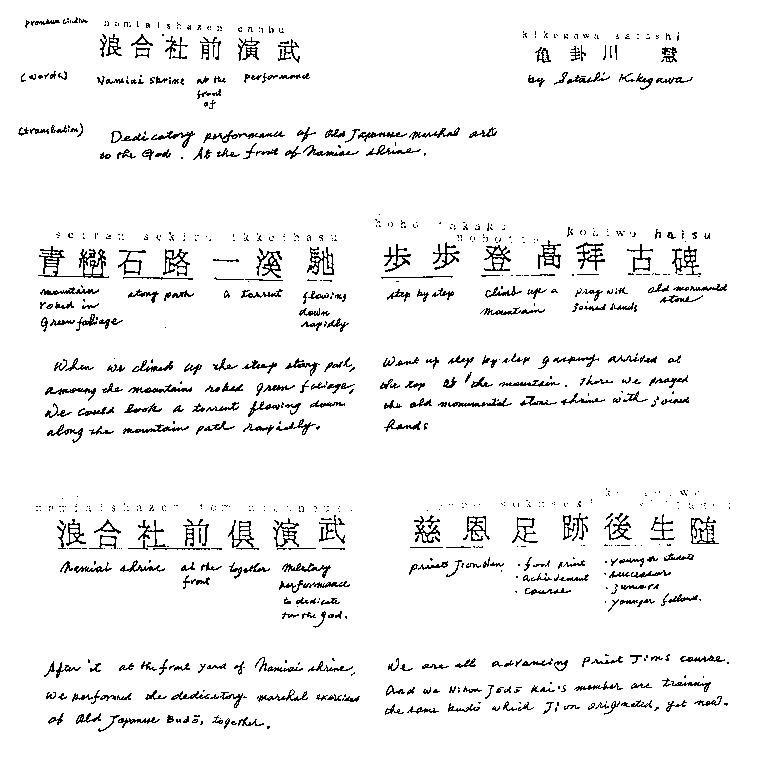 Namiai Shazen Enbu - Kikegawa Satoshi

Seiren sekiro ikkei hasu
Hoho takaku nobotte kihowo haisu
Namiai shazen tomoni enbusi
Jionno sokuseki kouseiwa shitagou

Dedicatory performance of old Japanese martial arts to the God, at the front of Namiai shrine.

When we climbed up the steep stony path,
among the mountains robed with green foliage,
we could see a torrent flowing down
along the mountain path rapidly.

We went up step by step gasping, arrived
at the top of the mountain. There we prayed
at the old monumental stone shrine
with joined hands.

After it at the front yard of Namiai shrine,
we performed the dedicatory martial exercises
of old Japanese Budo, together.

We are all advancing Priest Jion's course,
and we Nihon Jodokai's members are training
the same budo which Jion originated, yet now.
---
If you have questions, comments, or suggestions, please email me at jjbieler@airmail.net